7th July 2011

- Cannon Shooter a Pirate Cannon user accompanied by a monkey that will aid with the attacks and buffs has the ability to swim.

21st July 2011 - Mercedes a Dual Bow Hero user very elaborate skills and great mobility Mercedes is a class of its own, therefore it will have its own town similar to Aran and she is the Queen of Elves.



4th August 2011

- Demon Slayer a Warrior Resistance that used to be a general within the Black Mage's army but has moved over to the Resistance Group. Demon Slayer instead of using MP, Demon Slayers will feature Demon Force and that is its Energy and Demon Slayer have its own specialties to grow wings, the wings grow as character level.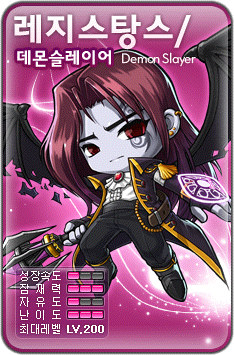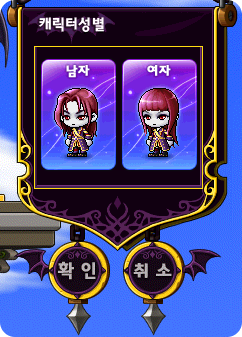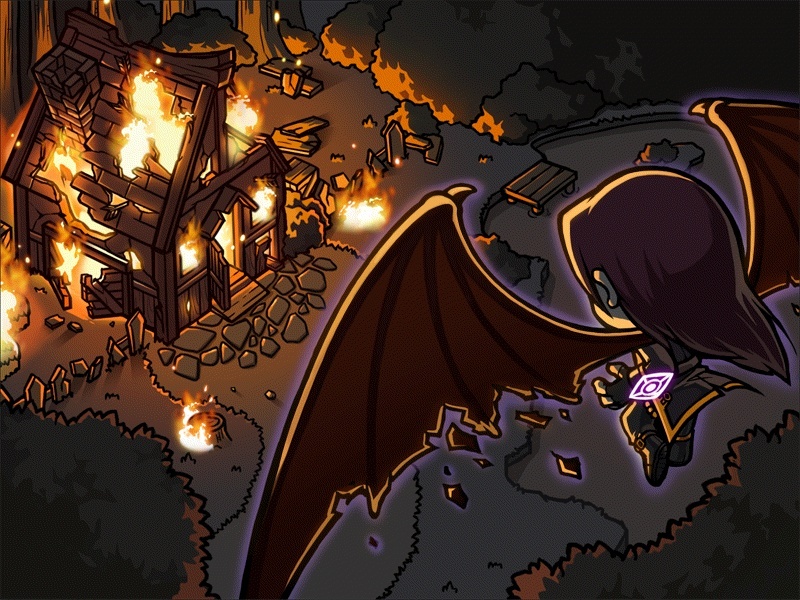 Medal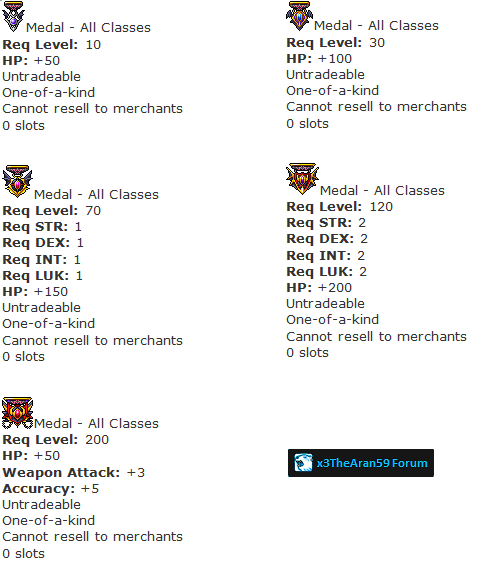 Weapon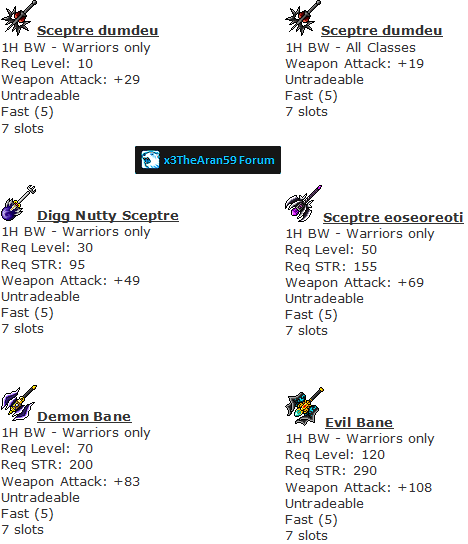 Shield
Music
DecisiveBattle
DespairOnDevil
UPDATE [1.2.396]



Demon Slayer (I)


Demon Slash:
Changed - Delay (maxForce0 - 600 ms -> maxForce0 - 570 ms)
New - s (2)

Devil Scythe:
Changed - Level readout (POS # forceCon consumption per attack, and hold key skills up to # mobCount # damage% damage to enemy attacks # attackCount times available -> attacked HP # hpCon, Force # forceCon consumption, and then key skills If the maximum # mobCount # damage% damage to enemies attacking # attackCount times available)
New - hpCon (15)

Demon Booster:
Changed - hpCon (40 -> 80)
Changed - time (120 -> 180)




Demon Slayer (II)


Demon Slash 1st Stage Strengthening:
Changed - damR (30 -> 40)

Soul Eater:
Changed - Level readout (POS # forceCon consumption per attack, up to # mobCount skills and hold a key to drag enemies to the # attackCount danggimyeo # damage% damage can be attacked once-> attacked HP # hpCon, Force # forceCon consumption, skill Holding down # mobCount maximum drag enemies to the # attackCount danggimyeo # damage% Damage attack once available)
New - hpCon (45)
Changed - forceCon (4 -> 6)
Changed - damage (145 -> 150)
Changed - attackCount (3 -> 4)

Dark Thrust:
Changed - forceCon (12 -> 10)

Demon Trace:
Changed - forceCon (25 -> 18)

Dark Revenge:
Changed - Description (for a certain period of time to give back to the enemy received from the damage, the target has a chance to create a stunning state, but only once the target's maximum HP can not give you back more than half of the -> a period of time received from the enemy, while the damage to give back, to target a chance to make paralyzed, but at one time more than half of the target's maximum HP can not give you back.)
Changed - Level readout (HP # hpCon consumption, # time # y% of the damage received by second return zoom enemy, the target # prop% # subTime second chance to stun -> HP # hpCon consumption, # time second victim received # y% of the enemy back as long as the zoom, the target # prop% # subTime second chance to attack)
Changed - hpCon (110 -> 150)
Changed - y (500 -> 400)

Outrage:
Changed - padX (20 -> 25)




Demon Slayer (III)


Demon Slash 2nd Stage Strengthening:
Changed - Level readout (# x% additional damage from slash daemon improved \ n (cumulative damage sangseungryang # damR%)] -> daemon # damR% additional damage from slash improve \ n (end damage sangseungryang # x%))
Changed - damR (85 -> 80)
Changed - x (55 -> 120)

Demon Judgement:
Changed - Description (in all directions at the same time, a number of enemy attack and fatal damage. -> The four corners of the earth at the same time, a number of enemy attack and fatal damage. Is subject to additional critical chance).
Changed - Level readout (POS # forceCon consumption, the maximum # mobCount # damage% damage to enemy blows # attackCount -> HP # hpCon, Force # forceCon consumption, the maximum # mobCount enemies # damage% damage, Additional Critical Rate # cr%)
Changed - Hitbox (350% -> 350%)
New - hpCon (300)
New - cr (40)

Blood Raven:
Changed - Description (by subpoena when the bloodthirsty crows attacking a large number of enemy in front, then some of the damage to their heals HP -> Red Raven herd summon a large number of enemy attacked in front, and then HP and heals her.)

Demonic Breath:
Changed - Level readout (POS # forceCon consumption per attack, and hold up to # mobCount skill key person as the enemy # damage% Damage # attackCount blows, to the target # dotTime # dotInterval second per second, # dot% of the Dock property ongoing Apply damage -> attacked HP # hpCon, Force # forceCon consumption, and hold key skills up to # mobCount # damage% damage to person # attackCount enemy blows, to the target # dotTime # dotInterval second per second, # dot% damage to property sustained effect of the poison).
Changed - Hitbox (250% -> 288%)
New - hpCon (80) (80)
Changed - forceCon (6 -> 12)
Changed - damage (215 -> 169)

Dark Rest:
Changed - hpCon (120 -> 200) (70 +10 * roundDown (level / 4) -> 100 +20 * roundDown (level / 4))

Max Force:
Changed - prop (35 -> 75)
Changed - x (2 -> 3)
New - z (10)




Demon Slayer (IV)


Demon Slash Final Stage Strengthening:
Changed - Level readout (# x% additional damage from slash daemon improved \ n (cumulative damage sangseungryang # damR%) -> daemon # damR% additional damage from slash improve \ n (end damage sangseungryang # x%))
Changed - damR (165 -> 160)
Changed - x (80 -> 280)

Demon Explosion:
Changed - Description (Hover in the air everywhere, a large number of the enemy after the fatal damage. -> Hover in the air everywhere, a large number of the enemy after the fatal damage. Hover after the explosion damage will be applied to a 100% critical attack.)
Changed - Level readout (POS # forceCon consumption, the maximum # mobCount # damage% damage to enemy attack and after Hover, # v% # w times, adding to damage critical attack \ n cooldown: # cooltime seconds -> HP # hpCon, Force # forceCon consumption, the maximum # mobCount # damage% damage to enemy attack and after Hover, # v% # w times critical damage to the attack \ n cooldown: # cooltime seconds)
Changed - Delay (reverseGravity - 870 ms -> reverseGravity - 990 ms)
Changed - Hitbox (400% -> 400%)
Changed - forceCon (60 -> 80)
New - hpCon (600) (600)
Changed - damage (600 -> 500)
Changed - mobCount (12 -> 10)
Changed - v (420 -> 375)
New - cr (100)

Demon Impact:
Changed - Description (by enabling instantaneous potential power forward ever to a large number of fatal damage. Daemons are subject to the impact of the additional critical chance bonus damage if the target is applied monseuteoil Boss -> instantaneous potential by activating a number of enemy forces to the front of the fatal damage. daemons impact adding an extra critical chance and ignore the effect is applied mobs ERA, and the target, the final boss, the damage is amplified monseuteoil).
Changed - Level readout (POS # forceCon consumption, the maximum # mobCount # damage% damage to enemy attacks # attackCount times, adding # cr% critical chance, and the target into effect if the boss monseuteoil # bdR% bonus damage -> Force # forceCon consumption, the maximum # mobCount # damage% damage to enemies # attackCount blows, add # cr% critical chance and ignore the effect of adding mobs ERA # ignoreMobpdpR% coverage, target the boss, the final damage monseuteoil # bdR% increase)
Changed - damage (600 -> 400)
Changed - attackCount (4 -> 5)
New - ignoreMobpdpR (50)

Devil Cry:
Changed - Hitbox (400% -> 400%)
Changed - hpCon (300 -> 500)
Changed - damage (160 -> 210)
Changed - subTime (10 -> 15)
New - Animation (mob)

Dark Bind:
Changed - Hitbox (400% -> 400%)
Changed - forceCon (120 -> 80)
Changed - time (15 -> 20) (5 + roundDown (level / 2) -> 10 + roundDown (level / 2))
Changed - ignoreMobpdpR (20 -> 30)

Metamorphosis:
Changed - Description (for a certain period of time to enable potential damage and maximum HP will increase the additional meta-Morphosis state centered on the caster when the two dark speculation and the rapidly spinning attack multiple enemies within range will automatically attack -> period of time, opening up potential damage and HP will increase the additional meta-Morphosis state centered on the caster when the two dark speculation and the rapidly spinning attack multiple enemies within range to automatically attack. )
Changed - Level readout (POS # forceCon consumption, # time second Damage # damR%, Max HP # x% rise, close to the enemies of the # damage% damage auto attack -> HP # hpCon, Force # forceCon consumption, # time second Damage # damR%, Max HP # x% rise, close to the enemies of the auto-attack damage # damage%)
Changed - forceCon (90 -> 75)
New - hpCon (300)

Maple Warrior:
Changed - hpCon (300 -> 500)



UPDATE [1.2.397]



Mercedes (II)


Charge Drive:
Removed - Final attack




Demon Slayer (I)


Demon Slash:
Changed - Info (type = 52, commandSkillType = attack -> type = 52, areaAttack = 1, commandSkillType = attack)




Demon Slayer (II)


Demon Trace:
Changed - Info (type = 1, casterMove = 1, areaAttack = 1 -> type = 1, casterMove = 1, areaAttack = 1, mes = stun)

Dark Revenge:
Changed - Info (type = 11, PADReflect = 1, MADReflect = 1, magicSteal = 1, mes = freeze -> type = 11, PADReflect = 1, MADReflect = 1, magicSteal = 1, dotType = paralyze, mes = freeze)




Demon Slayer (III)


Demon Slash 2nd Stage Strengthening:
Changed - Description (daemon, adding a slash to enhance the damage -> daemon, adding a slash to enhance the damage. \ N Skills required: # c slash daemon first reinforced Level 1 #)
New - Pre-requisite (Level 1 Demon Slash 1st Stage Strengthening)

Demon Judgement:
Changed - Level readout (HP # hpCon, Force # forceCon consumption, the maximum # mobCount enemies # damage% damage, Additional Critical Rate # cr% -> HP # hpCon, Force # forceCon consumption, the maximum # mobCount enemies # damage% Damage to the # attackCount time attack, critical chance add # cr%)
Changed - Hitbox (350% -> 350%)

Demonic Breath:
Changed - Info (type = 1, areaAttack = 1, rapidAttack = 1, knockbackLimit = 100, dot = 1, condition = attack, dotType = invenom -> type = 1, areaAttack = 1, rapidAttack = 1, knockbackLimit = 100, dot = 1, condition = attack, dotType = paralyze)

Evil Touch:
Changed - Info (type = 50 -> type = 51)




Demon Slayer (IV)


Demon Slash Final Stage Strengthening:
Changed - Description (Daemon enhances the final slash damage -> Daemon enhances the final slash damage. \ N Skills required: # c daemon reinforced slash secondary level 1 #)
New - Pre-requisite (Level 1 Demon Slash 2nd Stage Strengthening)

Demon Explosion:
Changed - Info (type = 1, areaAttack = 1 -> type = 1, upperAttack = 1, areaAttack = 1)

Demon Impact:
Changed - Hitbox (400% -> 375%)
Changed - Info (type = 1 -> type = 1, areaAttack = 1)
Changed - forceCon (60 -> 40)

Devil Cry:
Changed - Hitbox (400% -> 500%)
Changed - Info (pvp = 0 -> type = 1, mes = reduceTargetDam & & reduceTargetPDP & & reduceTargetMDP & & reduceTargetACC, areaAttack = 1)

Dark Bind:
Changed - Hitbox (400% -> 500%)
Changed - Info (type = 32, dot = 1, mes = restrict & & attackLimit & & buffLimit -> type = 1, dot = 1, dotType = paralyze, mes = restrict & & attackLimit & & buffLimit, areaAttack = 1)
Changed - dotTime (15 -> 20)

Metamorphosis:
Changed - Info (type = 10, areaAttack = 1 -> type = 11, areaAttack = 1)

Infinite Force:
Changed - Info (type = 10 -> type = 10, pvp = 0)
New - Animation (effect)
New - Animation (effect0)

Vampiric Touch:
Changed - Delay (partyHealing - 1440 ms -> partyHealing - 1710 ms)
Changed - Info (type = 1, hpDrain = 1 -> type = 11, hpDrain = 1, condition = attack)
New - Animation (affected)




New Potential System


- Decrease in cooldown.
- 40% Bossing damage!
- Damage Reflect.
- Resistance to states.
- 12% stats.
- Minimum/Maximum Critical Damage increase.
- Mesos & Item Drop Rate increase (20%)




New Useful Skills (Also known as Decent Skills):


Useful Combat Orders
MP Cost: 64, +1 SP on all skills for 240 seconds.

Useful Advanced Bless
MP Cost: 120, Duration: 240 seconds. +20 Weapon ATT, +20 Magic ATT, +425 Weapon DEF, +425 Magic DEF, +260 Accuracy, +260 Avoidability, +475 MaxHP, +475 MaxMP, MP Consumption Reduction: 12%.

Useful Speed Infusion
HP Cost: 80, MP Cost: 80, Speeds up your attacks for 240 seconds.





Demon Slayer World Selection Screen