Dear Players,

From
18th January to 7th February 2012
, head down to the "
Event Map
" to receive the new Chinese New Year quest from
NPC

Naomi
and by completing a simple quest you will be rewarded with one of the following prizes.



1. Dark Racoon Mask
2. Spectrum Googles
3. Bunny Disguise I
4. Bunny Disguise II
5. Bunny Disguise
III
Note:
1. Character level 80 and above will be able to receive the quest.
2. Each Character is only able to exchange
ONCE
throughout the whole event.
3. The required "Beltin", "Breakin" and "Poppin" quest items can be obtained from all monsters.
With Naomi's magical power sprinkle all over Maple World, from
18th January to 8th February 2012
chances of obtaining
Imperial & Onyx Weapons
and rare equipments from All Gachapon Machine have been increased
up to 100 times more
.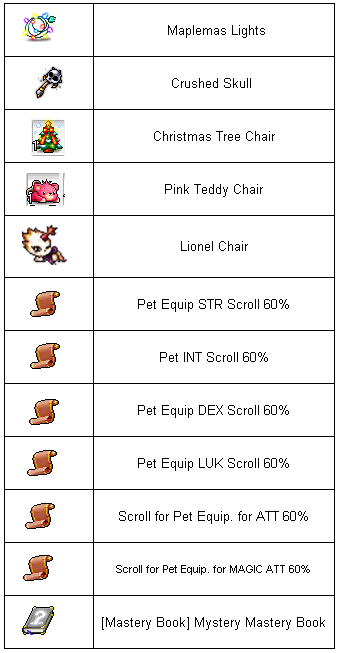 -Maple Administrator